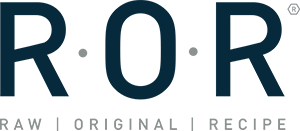 Made With
the science
of raw
no bone. no grain. complete.

*Made with
bone-free meat
No bone. No grain.
Excessive levels of Bone naturally occur in most raw foods because manufacturers use carcass as the main ingredient. Carcass has had most of the fleshy part removed and this results in most raw foods having a high level of bone content – which can't be digested by the pet so is passed with little nutritional impact. R·O·R is different, we don't use carcass with bone and add balanced levels of calcium and minerals.
Fast
frozen
for freshness
We mix our fresh ingredients and freeze them instantly to ensure that R·O·R is completely safe for your precious dog.
Easy pour
=

Easy portions

Just pour the right amount of chunks for your dog and pop it back in the freezer.

No need to touch the raw food, R·O·R is safe and hygienic.

Please ensure you clean the bowl between meals
Natural Formations for all Life Stages
Puppy

Perfectly balanced nutritional support for growing and developing puppies.

A smooth mix for palatability and gentle digestion for little tummies
Controlled slow releasing energy for support
Natural antioxidants to boost and support the immune system
Beneficial minerals such as phosphorus, iron, copper, magnesium and iodine
Added calcium to support skeletal growth and formation in growing pups

Adult Dog

Every ingredient has been specifically chosen because of its nutritional benefits for adult dogs.

Full of flavour and highly digestible
High Omega 3 and 6 for healthy skin and coat
Natural vitamins & antioxidants to boost and support the immune system
An excellent source of essential amino acids
Scientifically calculated calcium/phosphorous ratios for healthy bones, joints growth and support.

Senior Dog

Scientifically balanced for senior dogs to provide support and optimum nutrients.

Highly digestible and Low in fat
Inulin included for blood sugar level and digestive support
Natural antioxidants to help support the urinary tract and the immune system
Scientifically calculated calcium/phosphorous ratios for full joint support
Super tasty and highly digestible
No Grain
No Bone
Complete Recipe
Raw Meat